Take back your confidence, comfortably.
The world's first bloat-friendly jeans: timeless styles that make your tummy feel good.
Shop now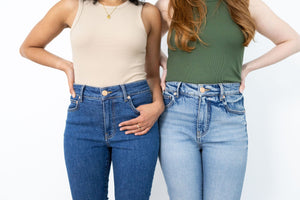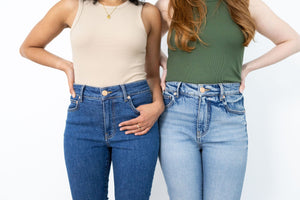 Irresistible Denim, Magical Fit, Unapologetically You.
Our jeans are designed with a relaxed waistband, and our signature Tummy Technology™, to accommodate the normal ebbs and flows of a woman's body. Feel comfortable and beautiful in your jeans again.
Shop now
Jeans loved by women with stomach issues & postpartum moms.
"
These jeans are AMAZING!! I tried these on two months postpartum and was shocked they fit and I'm OBSESSED! I hate anything tight right now because I have an umbilical hernia and these jeans don't bother it at all! They are seriously amazing!
"
"
I'm SO happy I found these jeans!!! I have IBS and usually jeans are uncomfortable on my body. Now I wear jeans the time. I'm so happy I can get my favorite jeans and tee look back in my life!
"
"
These are legit the best jeans I've ever put on my body. I have a huge problem with bloating and these are the only jeans I'll wear. They are SO comfortable and I love that they are sustainably made.
"
"
I just had a baby 3 months ago and missed dressing in my normal clothes. I bought these jeans and they are SO comfortable! I have no idea how they make the waist so comfortable but they actually fit. THANK YOU SO MUCH!
"
"
No joke I stopped wearing jeans for SO long because I hated them. Now I'm wearing my g+d jeans everyday. THANK YOU SO MUCH!!!
"
"
I have personally struggled with bloating for over a decade. Jeans are my favorite thing to wear and tend to be the least comfortable with my belly. These jeans the most comfortable on my belly. They even pass the sit test!
"
Bloat-Friendly
Inspired by our personal journeys with bloating, our signature design expands while reducing visibility of bloat without sacrificing comfort or fit.
Sustainably Made
Designed in NY, Made in LA. We use sustainable fabrics, recycled hardware and eco-friendly washes. Trust us, your skin will thank you.
Free Shipping & Returns
Shipping and returns are FREE on all orders in the continental U.S. We ship in recyclable mailers.
Our Story
Our founder, Nicole, had a love/hate relationship with her jeans. She loved the classic denim wardrobe staple but one of her biggest issues was that her jeans never fit comfortably when she was bloated. That's when Tummy Technology™ was born.
Read more about our story